Centage Alternatives
Looking for Centage alternatives? We're here to help.
Modern businesses can't rely on guesswork or gut instinct anymore. The market is too competitive, change too fast, and the risks too great. New competitors enter the space every day, vying for the same clients. Business leaders need reliable data and forecasting to guide their decision-making process to truly succeed. 
CFOs, CEOs, and the Corporate Board depend on FP&A budgeting, forecasting, and analyses to make business decisions. While spreadsheets were (and still are) commonly used tools, they aren't sufficient for these complex organizational needs. Manual data entry and endless copy-and-pasting can lead to errors at a time when accuracy is of the essence, and the tool's format doesn't allow for engaging reports. This is why Financial Planning and Analysis (FP&A) is critically important. 
Modern FP&A solutions usually combine the familiar format of Excel with time-saving, powerful consumer apps that produce compelling and accessible data visualizations for stakeholders. Not all FP&A tools are equal, though. The right tool will transform your business for good. Pick the wrong one, and your team will waste months on implementation and coming to grips with the new format. 
One such solution is Centage Planning Maestro. Centage Planning Maestro is a cloud-native financial intelligence, planning, and analytics platform that claims to provide real insight into a company's financial health. Centage Planning Maestro has several valuable features, including ad hoc reporting, KPI tracking, cash management tools, what-if scenario analyses, and data visualization capabilities. Centage Budget Maestro also offers rudimentary planning capabilities. 
The company uses a setup wizard to guide new users through the implementation process, making it intuitive and straightforward, even without IT or onboarding support. 
However, the software does have some flaws and inherent disadvantages that prospective buyers should be aware of. There have been reports of integration failures and customer support issues that should give you pause. 
Pricing starts at $10,000 per annum, comparable with Cube and OnPlan. 
This article will look at some of the viable FP&A software alternatives to Centage on the market today. We'll compare their features and provide a short breakdown of each solution. 
Disadvantages of Using Centage
Centage is a fair FP&A tool. Its cloud capabilities enable companies to scale and operate in an agile manner. But it's not the most user-friendly tool on the market, and there have been reports about integration and implementation issues. Let's look at a few of the disadvantages of using Centage:
Cumbersome Reporting 
Companies find it cumbersome to run reports or extract data using Centage. Getting information into Excel to manipulate is not as straightforward or simple as it should be, especially compared to OnPlan, which is very intuitive. 
Routine Maintenance and Data Import
Some users have reported that routine data maintenance is "painful" to manage and that adding new accounts and data is a cumbersome and lengthy process. Importing data is slow, and users of Analytics Maestro report that the updating process is overly long. Similarly, global changes are challenging to make. 
Version Control and Changes 
Low performance and editing complicate version control, which is not ideal considering how important accuracy is in an FP&A environment. Automation capabilities would improve the tool. 
Customer Service
Several reviewers have said that it is challenging to obtain assistance from Centage customer service. One reviewer stated, "I also disliked getting poor support, which manifested in passing from one person to another and problems not getting fixed. Our primary person didn't know her solution well, so she kept saying she'd speak with an engineer."
Data Sharing
Customers using the web version of Centage say that data sharing is slow and cumbersome. For example, the data stays on the web server, from where users download it and copy it for internal sharing via email and other channels. 
Navigation
Navigation from screen to screen is complex, and the system isn't as intuitive to use as advertised. Users say that there is a long learning curve, which can cause frustration in the beginning. 
Alternatives to Centage
To recap some of the disadvantages to using Centage: 
Creating reports can be cumbersome
Routine maintenance is too time-consuming and complex
Version control and updates are difficult to manage
Data sharing for the web-based version of the tool is lengthy
Users experience poor customer service from Centage
Navigation between screens is confusing 
If any of these disadvantages concern to you, you may want to consider some of the alternatives. Most of these platforms share the same features as Centage at a similar or better price point. 
#1 — OnPlan 
OnPlan is a highly rated and comprehensive FP&A solution and one of the most flexible solutions on the market. While Centage Maestro Planning is hands-off, OnPlan takes the opposite approach. The implementation team reaches out to individual users, discusses their requirements, and sets up the software and integrations along with the users for an interactive, tailored experience. 
OnPlan is suitable for financial forecasting, budgeting, and workflow management. The tool connects existing spreadsheets with best practices Apps and the sophisticated OnPlan Engine to reduce the learning curve for users accustomed to working in Excel without skimping on analytical and data processing requirements. 
Unlike Centage, OnPlan places a lot of emphasis on user-friendliness in its UX and features. This lets users draw tangible value from the platform with rapid adoption and instant usability.
OnPlan supports integration with several leading ERP, CRM, and HRIS systems, including QuickBooks, Sage Intacct, Salesforce, Xero, and NetSuite, so that consumers can use the data instantly and share it across the organization from. World-class support is available across a number of channels. 
Financial planners can use OnPlan to create strategic analyses, synchronize and centralize information, or test opportunities and risk through what-if scenario planning with a few clicks. Many clients compare OnPlan to Adaptive Planning, but at a considerably lower price point.
OnPlan and Centage are similar in features and functionality, but OnPlan doesn't experience the performance or usability issues that have plagued Centage in recent years. Teams can get up and running in days rather than months and find the tool intuitive to use from the very beginning. 
Key Features 
Shorter time-to-value realization and shorter learning curve
Integration with dozens of CRM, HRIS, and ERP systems 
The ability to collaborate across departments
Reduced need for manual input or validation of information
Access management 
Flexible API
Real-time insights into critical business issues 
Greater financial information transparency
Budget-vs-actual analysis to increase insight and reduce fraud/serious errors
Predictive analytics that accelerates decision-making
Simple scenario analysis 
Tailored dashboards that update automatically as required 
Use Cases
Budget-vs-actual analysis for early fraud detection/reduction of errors
Custom modeling to analyze and steer company decisions and opportunities
Budgeting and forecasting 
What-if scenario planning 
Tracking and benchmarking of company goals and KPIs
#2 — Cube
Cube is a SaaS FP&A modeling, forecasting, and collaboration platform. Cube provides real-time financial and operational data to departments for analysis and planning and comes with robust visualization features. Like OnPlan, Cube uses an Excel format to save time and reduce staff time to adopt the software. 
Cube is useful for companies that would like a centralized data source for various departments to use to pull data during month-end and quarterly reporting. The tool is helpful in streamlining AOP and BvA processes and integrates with several consumer applications like Google Sheets and Excel. 
On the downside, like Centage, implementation can be complex, and most companies have to bring in an onboarding specialist to get acquainted with the software. In terms of pricing, it's comparable with OnPlan and Centage. Cube is probably best-used by companies that are technically-savvy. FP&A professionals without a technical background will find it unintuitive and tough to grasp, especially in the beginning. This is further exacerbated by a flurry of bug fixes and updates that seem to crop up every few months. 
Key Features
Connected data and automated roll-ups and drill-downs for smarter data consolidation
Scenario analysis to test opportunities
Spreadsheet integration
Multi-currency usage 
Balance sheet 
Custom dashboards and reports
Templates 
Audit trails 
Use Cases
Revenue planning
Financial Forecasting 
Data visualization, import, and export
Real-Time Data shared across multiple teams for strategic planning purposes
Dashboards for simplified presentations 
#3 — Mosaic
Mosaic gives organizations a holistic view of their business through simple dashboards and other visualization and reporting tools. Mosaic integrates with existing data and billing systems, including ERP, HRIS, and CRM tools like Salesforce, Xero, and Sage Intacct. 
The platform is cloud-based and designed for agile planning, but its real strength is automating and reducing manual inputs. Users can easily reconcile and update their forecasts faster than in Excel, and multiple modeling scenarios can be used. 
Mosaic can be a valuable tool, but its primary disadvantage is its limited customization capabilities. Tracking internal KPIs is not easy, so companies will need additional systems to manage and track scores like NPS and other performance indicators. Depending on your circumstances, Mosaic may be fit for purpose, or you feel as though you have to constantly play catch-up. 
Key Features
What-if scenario planning to test threats/opportunities
Permission-based access controls to reduce errors
Budgeting, forecasting, and reporting
Cross-department collaboration tools
Dashboards to create a single source of truth for the organization
Use Cases 
Allocate resources more effectively through cross-departmental data sharing
Gain actionable insights to realize and drive business goals
Forecasting 
Access to a single shared source of truth to improve planning and reporting across teams 
#4 — Jirav
Jirav is a cloud-based financial planning and forecasting solution aimed at smaller businesses. Jirav offers user-friendly features and valuable integrations with significant software solutions, like Quickbooks and Netsuite. 
Jirav has an attractive price point for small business owners. Like OnPlan and Centage, the tool has data visualization capabilities, a KPI monitoring feature, and a modeling engine that drives forecasts and scenario planning. However, the Jirav modeling engine is quite limited, and growing companies may find they quickly outgrow its capabilities. 
Unlike some of the other tools mentioned, Jirav doesn't attempt to integrate or emulate the spreadsheet format but replaces it. This can create a steep learning curve or blocker for small companies using Excel and other tools. This isn't the only sore point with Jirav. Data inputs are very manual and reporting functionality in general are restrictive and limited. There are also a few performance issues reported in online reviews and customer feedback which may give you pause. 
Key Features 
Budgeting, forecasting, and scenario planning 
Asset lifecycle management.
General ledger and cash flow management
KPI tracking capabilities
Visual dashboards for simplified reporting 
Scorecards 
Use Cases
Run multi-scenario forecasts at the same time
Structured growth planning and tracking 
Budgeting, reporting, and forecasting 
Single source of truth for financial data within the organization 
#5 — Limelight
Limelight is an online financial planning, analysis, and reporting platform that integrates with ERP software to enable planning and forecasting. Data is centralized and shared among departments with ease. 
Limelight has built its reputation on its capabilities as a workforce planning tool. Companies that use seasonal workers can use the workforce planning model to pull employee-specific data through the actual payroll to view hours paid in the past or project-specific hours logged by staff. This feature is useful when making plans around seasonal peaks. 
Customer support seems to be suitable and readily available. The disadvantage is that implementation can be difficult and error-prone, and in truth, the other tools reviewed in this article have more robust analytical capabilities than Limelight.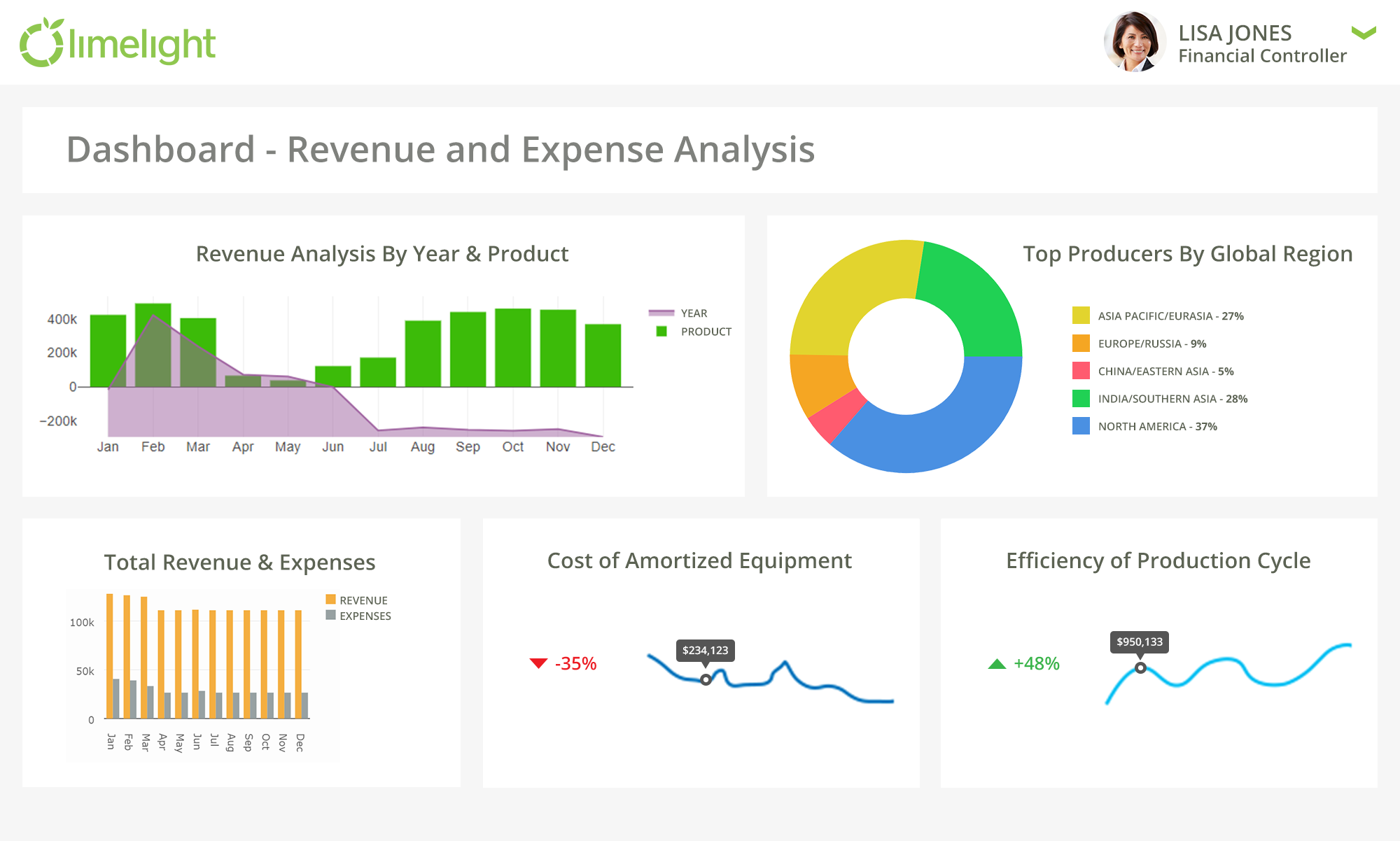 It's useful for companies that use seasonal workers, as it enables employee counts, accurate paid time, and more. However, if your company doesn't quite fit that description, you should find a tool that is more robust. Limelight doesn't have the drill-down and reporting capabilities that its competitors have, and your FP&A team will probably outgrow it quickly. 
Features 
Payroll management
Performance metrics and tracking 
Reporting/analytics/forecasting
Dashboards 
Scorecards 
Access management 
Use Cases
Workforce planning, including employee counts, paid time, etc
Cross-departmental goal setting 
What-if scenario planning
Budgeting
Final Word
Choosing a solid FP&A solution is vitally important. Data must be accurate, available, flexible, and transparent across the organization. While Centage offers a good solution, some of the alternatives reviewed have features and performance capabilities that may be more favorable and better-suited to your unique organization. 
It's important to evaluate each option for its speed, reliability, ease-of-use, and time-to-value realization ratio to find the right FP&A solution for your business.